Sri Lanka Telecom (SLT), the nation's number one ICT solutions provider and broadband and backbone infrastructure services provider in the country has announced the successful upgrade of the LEARN (Lanka Education And Research Network) of Sri Lanka. LEARN upgrade consists of enhancing both Internet Access Bandwidth up to 1.65 Gbps and the interconnecting wide area network (WAN) with island wide Universities and Research institutes.
LEARN interconnects all the University Grants Commission (UGC) funded state universities, a number of public universities that function under other ministries, the UGC, the Ministry of Higher Education, and a number of national research institutions including the National Science Foundation (NSF).
LEARN also has direct connectivity with SchoolNet, the network connecting secondary schools island wide and Lanka Government Network (LGN), the network connecting government institutions in Sri Lanka.
The upgraded network infrastructure will facilitate various types of e-Learning activities (online & distance education), enhanced video conferencing, video streaming as well as routing of inter-university voice and Broadband Internet access for academics and students in the respective universities, enabling them to liaise and improve their educational skills and fulfil their requirements.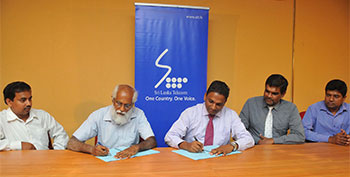 LEARN upgrade agreement signing by Prof. K. S. Walgama, CEO of LEARN (left) and Mr. Kiththi Perera, Chief Enterprise and Wholesales Officer of SLT (right) while Mr. H. M. S. Herath, Network Administrator of LEARN (left), Mr. M. Z. Saleem, GM (Government Business) of SLT and Mr. Janaka Abeysinghe, GM (Enterprise & International Sales) of SLT looks on.
Prof. K. S. Walgama, the Chief Executive Officer of LEARN, said, "LEARN is a pioneering project introduced in 1990, connecting all Sri Lanka's Universities and Research & Development institutes with each other and the world through the internet. It is a network that opens vast opportunities for education and interaction, breaking the traditional boundaries of teaching, learning and research methods to drive the country towards becoming a Knowledge Hub".
The upgraded LEARN network is based on advanced MPLS IP-VPN technology, where each university is connected to Sri Lanka's National Backbone Network through extensive optical Fibre connectivity. Core servers of the upgraded LEARN network are co-located in the SLT Internet Data Center (iDC).
Lalith De Silva, Group Chief Executive Officer of SLT commenting on this future focussed initiative said, "We truly believe in supporting to enhance and upgrade knowledge across the country irrespective of the ethnic diversity and language barriers through the enabling of modern ICT infrastructure and ICT education towards becoming a knowledge hub within a SMART Sri Lanka. At the heart of our vision is our commitment towards the realization of the state's ambition of a digital economy".
Kiththi Perera, Chief Enterprise and Wholesales Officer of SLT commenting on this capacity upgrade said, "Continuing to extend our support, Sri Lanka Telecom is proud to upgrade the LEARN network making it more accessible to a wider audience whilst offering a better range of possibilities – empowering the information communication infrastructure to enable the nation's student community and academics to share knowledge in the fastest and most modern manner".