NEC Corporation has done the demonstration tests of safety-related services for the 5G era in PyeongChang together with KT Corporation (KT), a leading South Korea-based communications carrier.
This initiative was carried out in February 2018 based on an agreement concluded by the two companies in August 2015 to collaborate in the field of 5G networks.
KT is currently providing the world's first 5G trial services in PyeongChang. Inside the "5G Connected Bus," a 5G-connected promotional vehicle operated by KT, NEC conducted demonstrations in which the identity of the driver was verified before the bus started moving through the use of a hearable device (wireless earphone) equipped with otoacoustic authentication technology that utilizes the resonation of sound in ear cavities to identify individuals.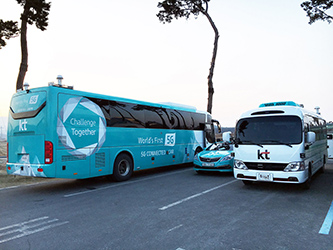 5G Connected Bus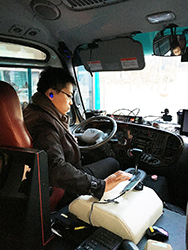 Verification of the driver's identity
The 5G Connected Bus also demonstrated identity verification at the time of boarding that used NeoFace*, NEC's AI engine for face recognition featuring the world's highest recognition precision.
"NEC will continue leveraging its strengths in AI, biometrics, network, and other technologies as we collaborate with KT on the development, testing, and demonstration of technologies and services for the commercialization of 5G," said Tomonori Kumagai, General Manager, Business Development Division, NEC Corporation.
NEC Corporation is a leader in the integration of IT and network technologies that benefit businesses and people around the world. By providing a combination of products and solutions that cross utilize the company's experience and global resources, NEC's advanced technologies meet the complex and ever-changing needs of its customers.